Welcome to J. Edward Knight & Co!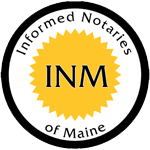 My name is Germaine Waltz and I am a licensed insurance agent as well as a Notary Public. Being an insurance agent is similar to being a Notary in that both have duties and responsibilities that confer upon us the trust and faith of the public and our clients.
I am a member of the Informed Notaries of Maine (INM) and have previously served on their Board of Directors. I am excited to share that members may be eligible for discounted personal insurance through J. Edward Knight & Co. and the INM Affiliate Group Program!
Click below for a free, no obligation quote today:
Or call me, at 1-800-898-4423! I look forward to hearing from you soon!
---
The offered discounts include the following:
Affiliate Group Credit
EFT (if the policy holder chooses electronic funds transfer for bill payment)
Account Credit (applies to two or more policies or any combination written under the group coverage, excluding an umbrella policy)
Loss Free Credit
Personal Auto Credits
Accident and First Speeding Forgiveness
Corporate Car Discount
Good Student
Homeowner
Superior Tier Credit
Non Smoker Credit
Deductible Credits
Protective Device Credit (smoke detectors, burglar and central station alarms)